Masonry Supplies
Masonry Supplies
We have the products to help you get the job done.
We provide a full range of masonry materials including cements and mortars, thin brick, cast stone, tools and more for the homeowner and the contractor. If you need something, just give us a call!
---
We carry many items in our inventory including:
Mortars / Concrete
- Type N, M, S, CSC4, ReadyMix S
- Concrete ReadyMix
- Mortar Colorants
- Mortar Antifreeze
- Mason Sand
Miscellaneous Items
- Reinforced Plastic Sheeting
-Bonding Adhesive
- Grout Bags
- Mesch
- Cleaners & Sealers
- Tools
Regular Cement Block
- Large Quantity in Stock
Chimney Items
- Clay Flu Liners
- Metal Chimney Cap
- Insulation Wall Ties
---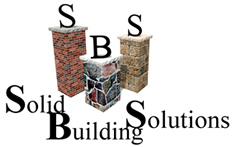 Solid Building Solutions is a division of Double A Lawnscaping and Supply.